VPN (Virtual Private Network) is a popular feature that helps you quickly change your internet connection to optimize gaming, speed up web surfing,… Hastega is supporting VPN protocols:
OpenVPN: is a very good and fast VPN protocol. In particular, it is supported with the Split Tunneling for Gaming feature to help you play the game better. To use OpenVPN, you need to install additional drivers to use (click on MAIN MENU in Hastega Application to install the driver if you don't have it).
Microsoft SSTP (Secure Socket Tunneling Protocol): is a very secure VPN protocol and extremely effective in penetrating any firewall. It is recommended to use MS-SSTP when you are having outbound connections blocked. This protocol is already built into the Windows OS, so you do not need to install additional driver.
L2TP over IPSec (Layer 2 Tunneling Protocol over Internet Protocol Security): is the VPN protocol with the fastest speed and highest compatibility. Like MS-SSTP you do not need to install additional driver.
WireGuard WARP 1.1.1.1: is a smart and fast VPN protocol developed by Cloudflare. You can easily create a VPN connection in seconds and automatically select the closest nodes from among Cloudflare's CDNs. WireGuard also supports Split Tunneling for Gaming like OpenVPN.
After logging in to the Dashboard, select the Serverlist tab, select the server you want to use in the list, right click it to interact. Since you want to use the VPN (Virutal Private Network) feature, you will have 2 options: the first option (with the Hastega icon) and quickly activate VPN.
The first option is to set up the server you want to use and the features you want to activate later (GPN, VPN,…), after adding the server, in the connection mode control panel, select VPN protocol and activate toogle button below Hastega icon.
In the option to quickly activate VPN, the system will automatically select that server and activate OpenVPN UDP immediately.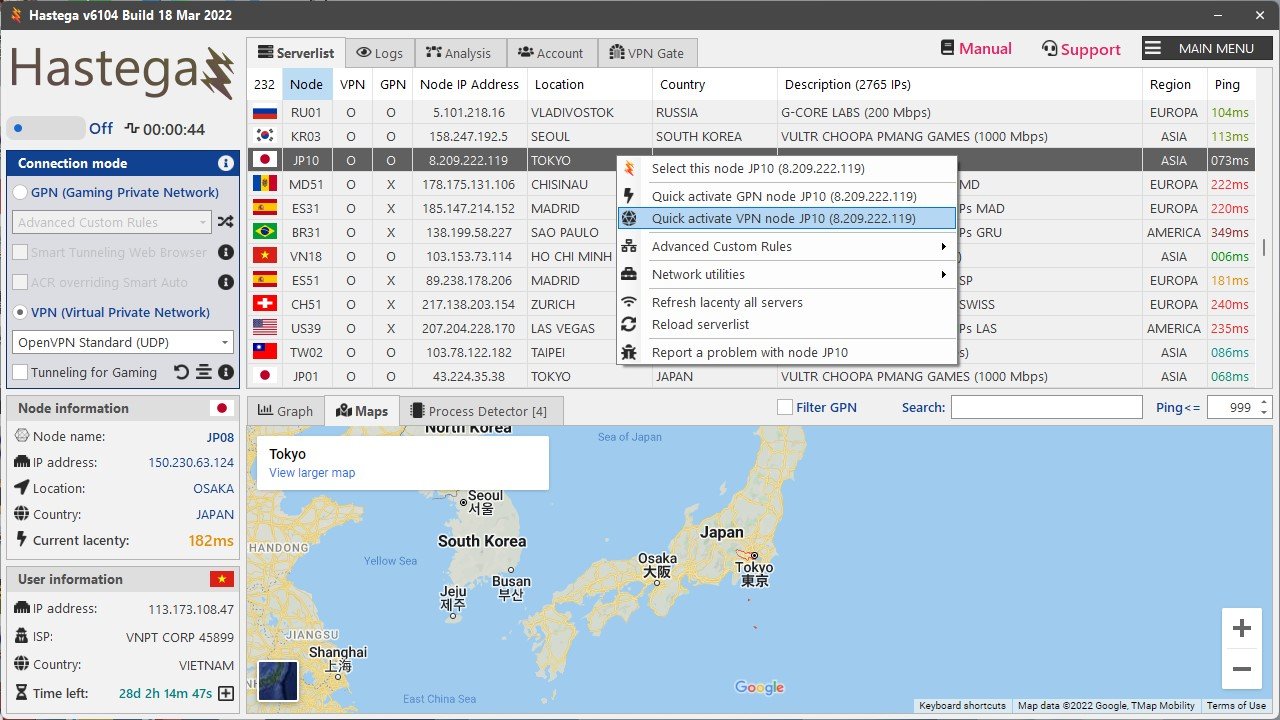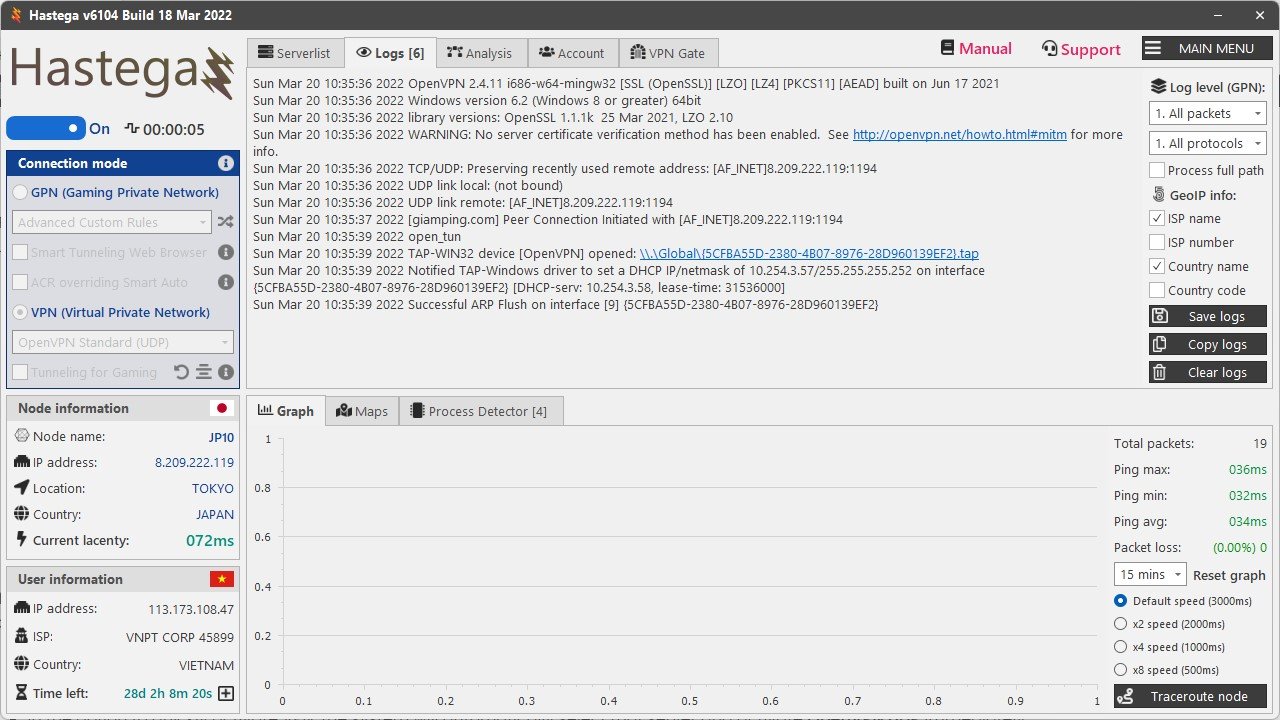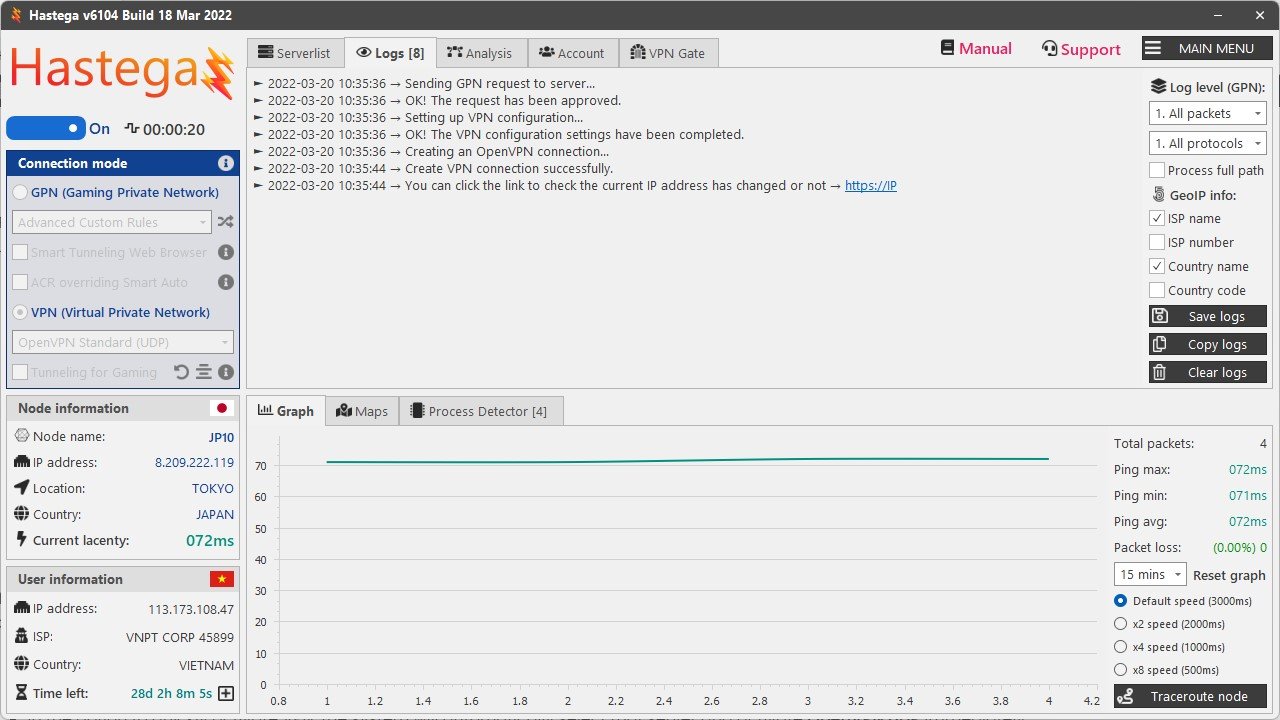 Check your new IP address in https://ip.giamping.com